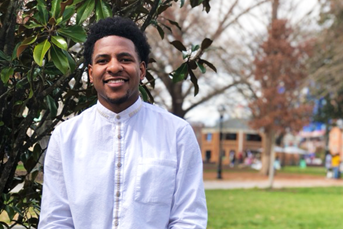 Deon Brown was born and raised in Richmond, Virginia. When it came time to explore his options for college, Brown, like many, wanted to experience a new setting.
"I was interested in VCU for undergrad, but I kind of wanted to get away," he said. Having completed a few dual enrollment courses in psychology during high school, Brown decided to pursue that interest at Virginia Tech. Not long after he arrived, professors and mentors began encouraging Brown to consider graduate school. "I was like, I just got here," he said.
But as Brown continued his studies, he learned more about what it meant to pursue a Ph.D., and the impact he could have as a researcher.
"I definitely second-guessed myself along the process, and even before applying–like, 'am I really ready for this?' And I kind of just had to learn what graduate school entails," Brown said. "Learning that it's training: you learn the skills that you need to be a researcher…you don't have to go in there perfect, knowing how to do everything."
For Brown, his decision to pursue a Ph.D. crystallized during a discussion with his undergraduate mentor, Dr. Russell Jones.
"He's one of the few Black male professors in psychology at Virginia Tech. I was telling him how I didn't really think this was for me: I wanted to do something more hands-on, I wanted to be able to interact with people on a daily basis, I wanted to have an immediate impact," Brown said. "And I remember him kind of pitching it to me… [that] earning your Ph.D. is a unique opportunity for you to advocate for your community–for African Americans on a larger scale. Because there's not too many people in that space, and you could represent them, you could advocate for them."
"I think that was the moment I was like: alright, I'll consider this," he said.
Brown decided to pursue a Ph.D. in developmental psychology, ultimately choosing to study at VCU and return to the city he had such deep connections to.
"I think the idea of coming back to Richmond and working on my doctoral degree was ideal, because the work that I do is motivated by community–by my community," Brown said. "I probably wouldn't be pursuing a degree if it wasn't for my family and for the opportunities that they allowed me to have. A Ph.D. is hard, so I might as well do it somewhere that I can consistently get that inspiration from."
Brown works with Dr. Fantasy Lozada in the School, Home, and Internet contexts of EmotionaL Development (S.H.I.E.L.D.) Lab, in which he focuses on African American families and youths' emotional development. "I'm interested in parenting processes: how African American parents teach their children about emotion, the role of culture, race, racialized experiences–so whether that be racial discrimination or race-related identity–how that influences parenting processes," he said.
"A big part of my research is inspired by my personal experiences growing up," Brown said. "Growing up in a two-parent household, having my father there, but also dealing with some of the nuances, like: there may be certain beliefs in African American culture where we may not feel that it's safe to express ourselves freely amongst everyone. That was a part of my upbringing that made me interested in how different children, different youth–what messages they receive from their parents growing up and how that affects their trajectory of development."
Brown, now in the fifth year of his doctoral program, also began to develop an interest in masculinity. "I think it's an important part that may be overlooked," he said. "When we look at youths' outcomes or mental health outcomes, when I think about African American men, I think about some of the challenges that they may face with managing their emotions. So I became interested in studying processes that are related to masculinity, emotion expression, and emotional regulation. I've started to put some focus there and towards African American fathers as well." Brown's dissertation project focuses on the emotion-related beliefs and behaviors of African American fathers.
Even with the demanding schedule of a doctoral student, Brown makes time to connect with the community outside of his role as a researcher. He was introduced to Cut to the Chase, a monthly discussion group dedicated to men's mental health and wellness, through a service learning project for his Community-Based Participatory Research (CBPR) course. Now, Brown serves as a co-facilitator for the program.
"It kind of confirms some of what I know, in a sense: it's not that African American men and men of color are not willing to talk about their emotions, it's just about cultivating that space in order for them to do so," he said. "It's something that's been a huge part of my development here as a student. Even though it wasn't required for the program, it's kind of taken on a life of its own."
Brown recently accepted a postdoctoral research associate position at Texas A&M University and will be joining the Youth Rising Lab in the fall after completing his dissertation project. The lab is led by Dr. Noni Gaylord-Harden and focuses on stress, coping, and psychosocial functioning in African American adolescents, and Brown looks forward to building upon the work he's done at VCU.
"Being able to support and attend community events and partner with members of the community who are doing great work, and bring them in…that's how I see my future research," he said. "Engaged in communities, empowering communities, and working with the families that I'm researching–I want to build a community-engaged research career."